Lynne's Reading For Sure Tutoring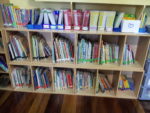 Accredited Reading For Sure providers can solve your child's reading delay with lots of fun and no stress.
Lynne's Reading For Sure Tutoring has been open on Oats St  Carlisle for at least 19 years and in that time has had the pleasure of working with some amazing students and their families. These students came to us because they were struggling at school due to their delay in reading. The schools system and other tutoring systems did not seem to help them. Reading for Sure takes a student back to the beginning and systematically teaches them to phonetically read the word, not guess or memorise.
The instruction in how to sound blend the phonemes in a word along with the special diacritical marks that we use as part of our program enable stressed, anxious students to realise that reading will be possible for them. In no time at all the students experience, sometimes for the first time, the joy of the written word and the possibilities they open for them.
The first place we should look if a child is falling behind or misbehaving is their literacy skills. Invariably a delay in reading is identified and with remediation via the Reading for Sure program the child once again enjoys school and behaves and performs at a much higher level.
Don't delay. At the first sign of stress contact us and have their key literacy skills checked before you go paying for other services you may not need.
Send Message to listing owner
Lynne's Reading For Sure Tutoring